The early reviews are in for the first Outcast Angels short story, THEN AGAIN: An Outcast Angels Fantasy & Science Fiction Tale, and the people are kind: they've bestowed five stars.

Excerpts from those reviews (you can read the full reviews at http://ThenAgainBook.com):
FIVE STARS from T.Vogt 'Kindle Addict':
I am going to write this review sort of backwards because you need to understand the premise of how this short story came about to really enjoy the spectacular achievement it made. A Facebook group decided to write a story, they would all bring a piece of the puzzle and then one would put the puzzle together, then next time someone else would get the pleasure. It really is a remarkable short story an hour read for a fast reader and two for a more laid back one. …
This set of authors plan on alternate universe and other plans down the road and I am Going to GO NUTS WAITING FOR THE NEXT BOOK !!! Gesh guys really know how to drive a reviewer nuts, short trip I know still.. Kudos to the Cast ! You can't just say great job when 10 + people were in on it you have to congratulate the whole of the team and I think your collective imagination will take you far, it was a real pleasure reading all of your characters and how they worked together. Like Samuel Morse you have invented a new way of writing, not a made for TV sitcom but a book that can be read.. I as a reader say THANKS.
FIVE STARS from Willy Eckerslike:
In 'Then Again' we are presented with a group of reformed fallen angels working to foil an assassination attempt. This may sound rather mundane were it not for a bit of 'groundhog' messing with time, prophesy and a neat little twist at the end.
The story is well written with plenty of pace and a firm narrative thread and I actually rather enjoyed it, but being just a single short story it is very difficult to get a feel for the contribution of each author to the individuality of each character; it would be interesting to see a novella written in this authors collective manner where there would be the opportunity for some meaningful character development. Failing that, the opportunity to read the entire anthology would, no doubt, provided much needed background to the protagonists.
FIVE STARS from Green Fire:
Then Again…I loved the title of this short story. It hooked me just based on that. The story itself is a great. A wonderful mix of the Realms of Our Own characters. In this segment, Jesse is the leader of the London LOA which tries to thwart bad things from happening. In this segment, they are trying to prevent the assassination of the new Russian president. They're too late, when the day begins again. As other reviewers mentioned, Groundhog day with a twist.
The twist I liked is that using the Groundhog day time loop, EVERYONE is aware that time has reset. A fun twist! I loved it. The way they figure out what is happening is totally hysterical but makes sense.
BTW, here's the book description:
It's the last few minutes of Millennium Eve, December 31 1999. But whilst the rest of the world is celebrating, Outcast Angel Jesse and a ragtag bunch of genetically enhanced trainees are desperately trying to save a Russian politician from an unknown assassin. 

The crowd is counting down the last few seconds till the new millennium — and then suddenly everything changes. Time jumps backward. What just happened, will it happen again and is there anything that Jesse and his team can do to prevent the assassination? 

THEN AGAIN is one of a collaborative series of short stories published under the collective banner REALMS OF OUR OWN. 

Realms Of Our Own is a new model in Science-Fiction anthologies, inviting each author to contribute a single character to be shared by all, reinvented by each contributor for use in a completely different universe. Ten authors, ten universes, ten core characters, one collaborative effort. 

This story, THEN AGAIN, features characters and concepts from the Outcast Angels series by Michael Carney.

You can buy the THEN AGAIN story for 99 cents from Amazon via http://ThenAgainBook.com
sign up for your Free outcast angels ebook!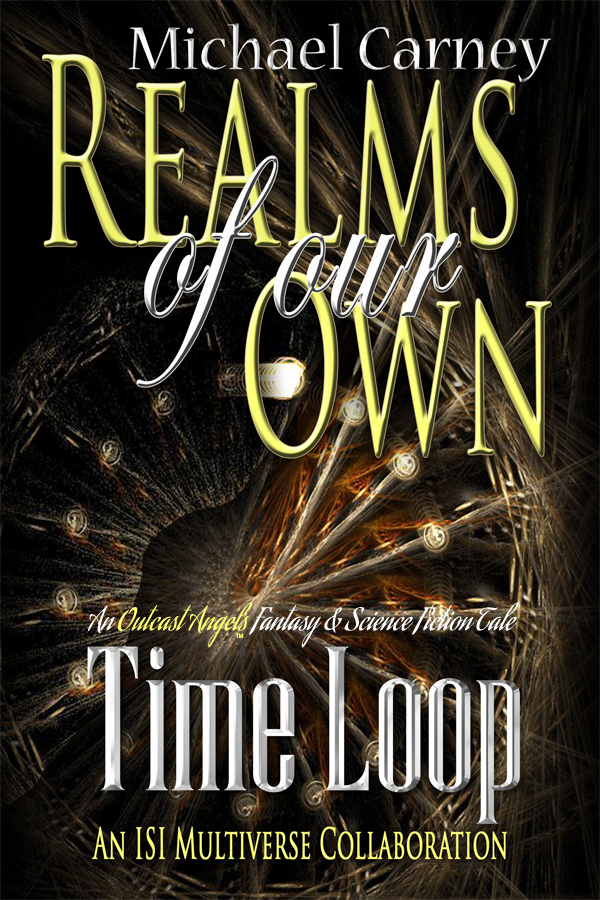 Sign up for our newsletter and grab this free story, TIME LOOP: It's the last few minutes of Millennium Eve 1999 and Outcast Angel Jesse and a ragtag bunch of genetically-enhanced trainees are desperately trying to save a Russian politician from an unknown assassin. [Please note: we use MailChimp, who will ask you to confirm your email address before sending you your free copy of TIME LOOP]